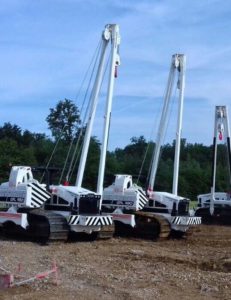 The works of the Val de Saône gas pipeline, which consists of a gas line of 188 km between Etrez in Ain and Voisines in Haute-Marne, are progressing. Started in March 2017, this strategic project runs simultaneously on 5 site and uses advanced techniques.
The Val de Saône pipeline will allow the merging of North and South tariff zones and the creation of a single zone. The project is managed by SPAC and funded by GRTgaz.
This project involves 5 GPL Performer 980 in laying 40 "JV pipes with DENYS.
Particular attention is given to the strict safety standards in this site where the Performer thanks to the design quality responds fully.
We leave you with the video produced by France 3:
http://france3-regions.francetvinfo.fr/bourgogne-franche-comte/saone-loire-chantier-du-gazoduc-val-saone-se-poursuit-1318459.html